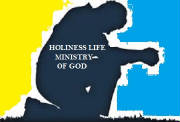 What is the name of God? For years this argument has been among both the Jews and the Gentiles. We know that God, in the Old Testament Books called himself and was to be recognized as the only "Lord God" (Exodus 3:14,15) And God said unto Moses, I AM THAT I AM: and he said, Thus shalt thou say unto the children of Israel, I AM hath sent me unto you.15. And God said moreover unto Moses, Thus shalt thou say unto the children of Israel, the LORD God of your fathers, the God of Abraham, the God of Isaac, and the God of Jacob, hath sent me unto you: this is my name for ever, and this is my memorial unto all generations. (Deut.6:4) "Hear, O Israel: The LORD our God is one LORD. (Deut.4:23, 24) "Take heed unto yourselves, lest ye forget the covenant of the LORD your God, which he made with you, and make you a graven image, or the likeness of any thing, which the LORD thy God hath forbidden thee. For the LORD thy God is a consuming fire, even a jealous God."
I want to speak on why God`s name is not Jesus. It's very obvious if you think and believe Jesus Christ was God, or that God himself was manifested as two persons, the Father and the Son that you would say that the name of God is Jesus, but that's biblically incorrect concerning who he is and what his name is. From the book of Genesis to Revelation there is no scriptural fact that God says his name is Jesus or is to be called by that or is worshipped as the name of Jesus. God`s name is not the same name as the Son. In (Prov.30:4)- "Who hath ascended up into heaven, or descended? who hath gathered the wind in his fists? who hath bound the waters in a garment? who hath established all the ends of the earth? What is his name, and what is his son's name, if thou canst tell? Clearly this knowledgeable comparison shows, God the Creator and father and Christ the Son, and that both of them have a name. Men that were in the truth of time past ,all shared some knowledge and understanding of the true God and his prophetic son. God said this to Moses in(Exod.6:2, 3)- And God spake unto Moses, and said unto him, I am the LORD: And I appeared unto Abraham, unto Isaac, and unto Jacob, by the name of God Almighty, but by my name JEHOVAH was I not known to them. In (Psa.83:18)- That men may know that thou, whose name alone is JEHOVAH, art the most high over all the earth." As you can see, God's name will be sacred and holy, therefore it will not be a name that is among the names of men, neither a name that's shared the same with the Son. "YHWH"- These four letters are usually transliterated from Hebrew as IHVH in Latin, JHWH in German, French and Dutch, and JHVH/YHWH in English. This has been variously rendered as "Yahweh" or as "Jehovah", based on the Latin form of the term. In English translations, it is often rendered in capital and small capital letters as "the LORD", following Jewish tradition which reads the word as "Adonai" ("Lord") out of respect for the name of God and the interpretation of the commandment not to take the name of God in vain. In (Exod.20:7)- "Thou shalt not take the name of the LORD thy God in vain; for the LORD will not hold him guiltless that taketh his name in vain. (Levit. 22:31-33) - Therefore shall ye keep my commandments, and do them: I am the LORD. Neither shall ye profane my holy name; but I will be hallowed among the children of Israel: I am the LORD which hallow you, That brought you out of the land of Egypt, to be your God: I am the LORD." (Psa.111:9)- He sent redemption unto his people: he hath commanded his covenant for ever: holy and reverend is his name.(Ezek.36:23)-I will sanctify my great name,which was profaned among the heathens, which ye have profane in the midst of them... (I.Chron.29:10)- Wherefore David blessed the LORD before all the congregation: and David said, Blessed be thou, LORD God of Israel our father, for ever and ever. Many other names that reflect God's character or attributes are found in the Scriptures, showing that they are all appropriate. Some names are God's titles of position and authority. He is called the Ancient of Days, Most High, Creator, Almighty, Father, Lord, King, Redeemer and Savior, among many other names as
Elohim=GOD, Yahweh=Lord Jehovah, El Elyon=The Most High GOD, Adonai=Lord Master, El Shaddai=Lord GOD Almighty, El olam=The Everlasting GOD, El Qanna= The Jealous GOD, Jehovah Jireh=The Lord will provide, Jehovah Rapha=The Lord who heals you, Jehovah Nissi=The Lord is my Banner, Jehovah Mekoddishkem=The Lord who Sanctifies you, Jehovah Shalom=The Lord is Peace, Jehovah Sabaoth=The Lord of Host, Jehovah Raah=The Lord is my Shepherd, Jehovah Tsidkenu=The Lord our Righteousness, Jehovah Shammah= The Lord is There.
The biblical records states concerning Jesus the Christ, (Matt.1:21& 25)- she shall bring forth a son, and thou shalt call his name JESUS: for he shall save his people from their sins. And knew her not till she had brought forth her firstborn son: and he called his name JESUS". (Luke1:31)- behold, thou shalt conceive in thy womb, and bring forth a son, and shalt call his name JESUS. In (Luke2:21)- when eight days were accomplished for the circumcising of the child, his name was called JESUS, which was so named of the angel before he was conceived in the womb. For the Son of God his name rendered as Hebrew>Yeshua,Greek>Yesous,English>Jesus. God has kept his name "sacred hallowed", and for the New Testament has honored his Son`s name before all his creation. Christ Jesus saying in (Luke 11:1,2)- "And it came to pass, that, as he was praying in a certain place, when he ceased, one of his disciples said unto him, Lord, teach us to pray, as John also taught his disciples. And he said unto them, When ye pray, say, Our Father which art in heaven, Hallowed be thy name. Thy kingdom come. Thy will be done, as in heaven, so in earth. (John12:28)- Father, glorify thy name. Then came there a voice from heaven, saying, I have both glorified it, and will glorify it again. In (Psa.29:2)- Give unto the LORD the glory due unto his name; worship the LORD in the beauty of holiness. Paul teaches in (Rom.8:14,15) For as many as are led by the Spirit of God, they are the sons of God. For ye have not received the spirit of bondage again to fear; but ye have received the Spirit of adoption, whereby we cry, Abba, Father. (Gal.4:6)-And because ye are sons, God hath sent forth the Spirit of his Son into your hearts, crying, Abba, Father.
According to scripture,God had given a prophesy name of (Emmanuel),for (*)the birth time of the true Messiah,in whom God will have his presence to be with in the earth. Matt.1:23-Behold, a virgin shall be with child, and shall bring forth a son, and they shall call his name Emmanuel, which being interpreted is, God with us;Luke2:40-And the child grew, and waxed strong in spirit, filled with wisdom: and the grace of God was upon him;Acts10:38-How God anointed Jesus of Nazareth with the Holy Ghost and with power: who went about doing good, and healing all that were oppressed of the devil; for God was with him. (*)Then at the time of, before and after his birth, the Messiah was given to be named Jesus.Matt.1:21-she shall bring forth a son, and thou shalt call his name Jesus: for he shall save his people from their sins;&vs.25And knew her not till she had brought forth her firstborn son: and he called his name Jesus;Luke 2:21-And when eight days were accomplished for the circumcising of the child, his name was called Jesus, which was so named of the angel before he was conceived in the womb. (*)Then at the time for the Messiah to be born and anointed of the spirit, he became Christ Jesus Matt.3:16-Jesus, when he was baptized, went up straightway out of the water: and, lo, the heavens were opened unto him, and he saw the Spirit of God descending like a dove, and lighting upon him. And lo a voice from heaven, saying, This is my beloved Son, in whom I am well pleased;Luke4:1-Jesus being full of the Holy Ghost returned from Jordan, and was led by the Spirit into the wilderness, (*)When the time for Jesus ministry work began he was Holy Prophet Christ Jesus- Luke4:18The Spirit of the Lord is upon me, because he hath anointed me to preach the gospel to the poor; he hath sent me to heal the brokenhearted, to preach deliverance to the captives, and recovering of sight to the blind, to set at liberty them that are bruised; Acts10:38-How God anointed Jesus of Nazareth with the Holy Ghost and with power. (*)And at the time of the Messiah's resurrection from his death, he became the Lord Jesus Christ.Matt.28:18- Jesus came and spake unto them, saying, All power is given unto me in heaven and in earth.Acts2:36- Therefore let all the house of Israel know assuredly, that God hath made the same Jesus, whom ye have crucified, both Lord and Christ.(*) And at time for his spiritual reignment over his church body he became Apostle Bishop and High Priest -Heb.3:1,I.Pet.2:25. (*)And when its time for his future earthly reignment he will then be Lord King Jesus Christ ,I.Tim.6:15 & Rev.19chpt., Eph.1:20- Which he wrought in Christ, when he raised him from the dead, and set him at his own right hand in the heavenly places,&vs.22 And hath put all things under his feet, and gave him to be the head over all things to the church.
God now wants all of creation to respect and honor his first only begotten son. Why, because in Rev.3:14-These things saith the Amen, the faithful and true witness, the beginning of the creation of God. (John3:18)-He that believeth on him is not condemned: but he that believeth not is condemned already, because he hath not believed in the name of the only begotten Son of God(John5:23)-That all men should honour the Son, even as they honour the Father. He that honoureth not the Son honoureth not the Father which hath sent him. You see before God gave and sent out his son into the world all men had to believe in God's name, "Jehovah and Lord" or by what ever name God wanted to be known by for salvation(Exod.6:3) and to believe and accept the prophets and scriptures prophecy of the Lord's Christ that was to come(Luke2:26). In St. John 1:12 says-" But as many as received him, to them gave he power to become the sons of God, even to them that believe on his name: This scripture is referring to God's name of Jehovah, not the name of Jesus. Remember(Psa.83:18)- That men may know that thou, whose name alone is Jehovah, art the most high over all the earth. The name of Jesus for salvation only began after Christ's death, burial and resurrection. Which also means that God the Father was the first and only Lord,over creation until he made his son Jesus, both Lord and Christ over his creation, and now salvation to become the sons of God is through his son's name(Acts2:36). In ancient Israel, names were very important and were not given without thought and purpose. The name given a person was generally descriptive of his position or nature or likeness. (Phil.2:9,10)- Wherefore God also hath highly exalted him, and given him a name which is above every name: That at the name of Jesus every knee should bow, of things in heaven, and things in earth, and things under the earth. Acts4:10,12- Be it known unto you all, and to all the people of Israel, that by the name of Jesus Christ of Nazareth, whom ye crucified, whom God raised from the dead, even by him doth this man stand here before you whole. 12. Neither is there salvation in any other: for there is none other name under heaven given among men, whereby we must be saved. The facts are that God the Father gave his Son to be named Jesus, thats why the scripture reads in I.John3:23- And this is his commandment, That we should believe on the name of his Son Jesus Christ, and love one another, as he gave us commandment. And in II.Tim.2:19-Nevertheless the foundation of God standeth sure, having this seal, The Lord knoweth them that are his. And, let every one that nameth the name of Christ depart from iniquity.

The name Jesus is a "given" name by God, not God`s personal name for himself, and the name Jesus means "Salvation". Why is that, because of I.John4:14-" And we have seen and do testify that the Father sent the Son to be the Saviour of the world". The Son`s name is a name given among men, and God has exalted his firstborn son`s name over all names, excluding his own. In Eph.1:21-" Far above all principality, and power, and might, and dominion, and every name that is named, not only in this world, but also in that which is to come." This scripture is proof that God named his son,Jesus and used his name for salvation and authority in the age period of Grace. Then we have Jesus saying in (Matt.28:19)-Go ye therefore, and teach all nations, baptizing them in the name of the Father, and of the Son, and of the Holy Ghost: Teaching them to observe all things whatsoever I have commanded you: and, lo, I am with you always, even unto the end of the world. Amen. Many have not understood this scripture, by "assuming" that the personal name of the Father is Jesus, and as well as for the Son and for the Holy Ghost, but that is not what this scripture has said. The scripture says" baptizing them in the name of", meaning do this by the authority of the Father, Son and Holy Ghost in this name, or through this name. Here is the understanding-The Father has given the name Jesus, for salvation. The Father has named his son, that is sent to be the saviour, Jesus, and the Father sends the Holy Ghost/Authority for salvation through the name Jesus. In(St.Joh.14:26)- But the Comforter, which is the Holy Ghost, whom the Father will send in my name, he shall teach you all things, and bring all things to your remembrance, whatsoever I have said unto you. Jesus said (Luke24:46,47)- Thus it is written, and thus it behooved Christ to suffer, and to rise from the dead the third day: And that repentance and remission of sins should be preached in his name among all nations, beginning at Jerusalem.
(Acts10:43)-To him give all the prophets witness, that through his name whosoever believeth in him shall receive remission of sins. Jesus said that salvation is in his personal name, not in his Father`s personal name, but we know from scripture that all men that will come to God, must first come by the Son. God will draw men to the son, and the Son will bring men unto the Father, all through the Gospel and the Son`s name, which is Jesus. (John6:44)- No man can come to me, except the Father which hath sent me draw him: and I will raise him up at the last day.
(John5:43)-I am come in my Father's name, and ye receive me not: if another shall come in his own name, him ye will receive. For years false teachers have been teaching a false doctrine based on this scripture as a "Jesus only doctrine" or "Jesus is God doctrine." They pull this scripture out of context instead of keeping it in its setting of the message. Jesus never said the name he came in was Jesus or JEHOVAH, but for years, men "assume" and through theology have decided this statement means the Father's name is Jesus. This statement simply means what Jesus has been declaring since the beginning of his ministry, that the"True God has sent him!" Which means they must believe and accept that this is the chosen, and sent Christ that was to come, the true Son of God. Again, Jesus said "I am come in my Father's name", or I come in God's stead. If God sends any prophet, that prophet automatically comes" in the Father`s name". Its also means that the Father's name was in Christ or upon him. Jesus Christ came by the authority of God, and his God's name. Its the same understanding of the time of Moses in Exod.23:20,21 when God said this of the angel sent by him>" for my name is in him" . Also, James 5:10-Take my brethern the prophets, who have spoken in the name of the Lord,.. What some failed to realize is that Isreal already knew the true personal name of God. John the baptist knew, and Jesus knew. Jesus did not come preaching the personal name of his Father, even thou the Isreal scribes and Pharisees knew the name also. God taught the son, that salvation to mankind will be granted by the son's name. In Duet.18:18-will put my words in his mouth, and he shall speak unto them all that I shall command him. & vs.19 -my words shall he speak in my name. In Dan. 9:6 -Neither have we hearkened unto thy servants the prophets, which spake in thy name to our kings, our princes, and our fathers, and to all the people of the land. Moses came in the Father`s name when God sent him, and he did not call God, by a name given amoung men. As well as all of the Old Testament prophets even unto John the Baptist. In Rom.10:15 saids " And how shall they preach, except they be sent? as it is written, How beautiful are the feet of them that preach the gospel of peace, and bring glad tidings of good things!" There is no where in scripture that God,whose name is Yahweh/Jehovah in the Old Testament ,changed his name into Jesus for the New Testament.
A true prophet is not one of his own self, but is chosen, called and sent by God. He has true authority and his ministry is by the power and unction of God. His ministry will represent the truth and holiness of God, the Father. When God has not sent a prophet, then that prophet has come in his own name. He is not of God. Therefore he will not represent the truth of God. The world (men) loves darkness (sin) than the Light (truth), that's why the world accepts the prophet that comes in his own name. Today it's called all religions of the world (Babylon). Why was it so important to understand and believe that Jesus is come in the father`s name. Because this means he is a true ,sent prophet by the one,only God. Jesus says in (John7:29)-But I know him: for I am from him, and he hath sent me.(John12:44-46)- Jesus cried and said, He that believeth on me, believeth not on me, but on him that sent me. And he that seeth me seeth him that sent me. I am come a light into the world, that whosoever believeth on me should not abide in darkness. (John10:25)- Jesus answered them, I told you, and ye believed not: the works that I do in my Father's name, they bear witness of me. Meaning I have shown proof that the Father God has sent me in his name and with his authority. (Deut.18:20)- But the prophet, which shall presume to speak a word in my name, which I have not commanded him to speak, or that shall speak in the name of other gods, even that prophet shall die. (John17:6-12)- I have "manifested" thy name unto the men which thou gavest me out of the world: thine they were, and thou gavest them me; and they have kept thy word. And now I am no more in the world, but these are in the world, and I come to thee. Holy Father, keep through thine own name those whom thou hast given me, that they may be one, as we are. While I was with them in the world, I kept them in thy name: those that thou gavest me I have kept, and none of them is lost, but the son of perdition; that the scripture might be fulfilled. In the Tyndale Bible1526, It reads St.John17:6-I have "declared" thy name unto the men which thy gavest me out of the world.
Again, Jesus acknowledges that God has his own name, but said that he has shown what God`s name represents. Jesus said" I have manifest thy name", not spoken out your name is Jesus, and we see by scripture Jesus taught to say "Holy Father". Jesus manifested God`s Godliness, which is the seven spirits of God(Isai.11:2), before the world and his Apostles. God`s holy and sacred name represents all that he is, and that is the only true and living God. From the record of the 4 Gospels and New Testament Books, nowhere in scripture does Christ teach to speak out the "personal" name of God, nor do his Apostles. They all address God as "the Father" and "the Lord God" and "Lord God Almighty". None of them call or address God`s name to be "Jesus". Since in the last days God has used Jesus Christ to speak his holiness truth through, Christ has never taught the church to call God, Jesus or for anyone to call Jesus,Father God. Jesus addresses God as "Father". Father Lord God is now the "addressment" name of God to speak under the age of Christ and his church(New Testament of grace and truth). Now there will be those that do not understand,and will say that the word "Father" is a title and not a name, God should be called either Jehovah or Jesus. No!,You should call him by what he tells you to call him by and he used his Son, Jesus to teach us. Father God is not a title but a "primary position of rite"of his Family and all his Creation to address him. Its his obvious name of addressment. This is no different than when God told Moses that his name is "I AM"/or I Exist, when Moses inquired what shall he say unto the children of Isreal of what is God's name that sent him. Remember what God said in Mala.1:6-" A son honoureth his father, and a servant his master: if then I be a father, where is mine honour? and if I be a master, where is my fear? saith the LORD of hosts unto you, O priests, that despise my name". If God wants us to call him Father because of his spirit indwelling in us , then we are to reverence it. For he is "Father Lord God" forever. In Heb.12:9- Furthermore we have had fathers of our flesh which corrected us, and we gave them reverence: shall we not much rather be in subjection unto the Father of spirits, and live? And Col.2:2-" That their hearts might be comforted, being knit together in love, and unto all riches of the full assurance of understanding, to the acknowledgement of the mystery of God, and of the Father, and of Christ. The true difference is that by the believer becoming born again, you now have a "sonship" relations with God. Your honour and reverence respect is to call him Father God. The true worshippers are now born again of water and spirit, calling God their father by receiving the Holy Ghost, beginning with speaking with other tongues, on that day of recieving his spirit, this was not under the Old Testament dispensation. (Rom.8:14-17). (Acts2:17)- And it shall come to pass in the last days, saith God, I will pour out of my Spirit upon all flesh. God created family and the order of it. In it we have the Father(husband), the Mother(wife) and then their sons or daughters(children). God has a respect order given from the children to their parents. God is one, and he is the Father. Just like children are being disrespectful to call their parents by their first names and to act and talk to them as they are equals, surely much the more ,we as the children of God to hallow respect his name and address him as Father God. Jesus Christ is the perfect example to follow, as he worshipped God, so should we. What he believe, we believe, how he prayed so do we, as he spoke so should we, and all in his name and truth. (Col.3:17)- And whatsoever ye do in word or deed, do all in the name of the Lord Jesus,(Son) giving thanks to God and the Father by him(Son). Do all by the authority of his name!
We must be very careful not to abuse and misused the name of God. When someone say that God`s name is Jesus, that is "Profanity and Blasphemy". There are names that are named for among men, there are names given among angels, but God only have his sacred personal name thats for himself, this name is not shared. To call or give God the name of his son is a mockery from all false worshippers who don't know God or his name. Search the written scripture facts, no where does it state, God`s name is Jesus, but all the false prophets who believe in a incarnated god being(jesus is god),or a half god and half man being(oneness), and or a equal 3 parts god being(trinity), all lie against the true name and true existence of God. They say this is his name, the written facts say, Jesus is the son of God, and that is his name. You don't worship Jesus as God, you worship the Lord God, the Father and Creator as God in the spirit, through his Son or because of his son. The Apostle Paul proved this is true in Acts 17:23-For as I passed by, and beheld your devotions, I found an altar with this inscription, TO THE UNKNOWN GOD. Whom therefore ye ignorantly worship, him declare I unto you. God that made the world and all things therein, seeing that he is Lord of heaven and earth, dwelleth not in temples made with hands; Neither is worshipped with men's hands, as though he needed any thing, seeing he giveth to all life, and breath, and all things; And hath made of one blood all nations of men for to dwell on all the face of the earth, and hath determined the times before appointed, and the bounds of their habitation. Jesus, the Christ said in (St.Joh.4:23,24)- But the hour cometh, and now is, when the true worshippers shall worship the Father in spirit and in truth: for the Father seeketh such to worship him. God is a Spirit: and they that worship him must worship him in spirit and in truth. If you search the bible, Jesus never ask, demanded, or taught that he should be worshipped, but God the Father has commanded that he must be worship, through his Son,Jesus the Christ. Remember Jesus said "I am the way, truth, and the life". Meaning he is all these things in bringing us into fellowship with God the Father for salvation. (Phil.3:3)-For we are the circumcision, which worship God in the spirit, and rejoice in Christ Jesus, and have no confidence in the flesh. God the Father name is Yahweh/Jehovah, and God`s begotten son name is Jesus! The church of Christ is not commanded to address and call God, Jesus. God accepts mankind when they believe in and upon him, by accepting his given son, and by accepting the name God gave for his son. Simply this, God wants us to accept and obey his son and his name, and by this God will give us salvation and eternal life.
No where in scripture does it contradicts these facts that are in (Rom.1:3)-Concerning his Son Jesus Christ our Lord, which was made of the seed of David according to the flesh.(II.John1:3)-Grace be with you, mercy, and peace, from God the Father, and from the Lord Jesus Christ, the Son of the Father, in truth and love. (ICor.8:6)- But to us there is but one God, the Father, of whom are all things, and we in him; and one Lord Jesus Christ, by whom are all things, and we by him. .(I.Tim2:5)-For there is one God, and one mediator between God and men, the man Christ Jesus.
"Yahweh/Jehovah" the spirit GOD(father) and "Yeshua/Jesus" the glorified man(son).